We found ourselves once again by order of the military heading for an unknown destination – although we did have an inkling having listened to the grapevine. We set out once more in canvas-covered lorries and we drove through desert and rocky regions, quite probably Jordan and Syria. One memory remains very much alive – we crossed inhabited areas which were much more hospitable because on both sides of the road  orchards in full blossom stretched out ahead of us.
Suddenly to our great surprise we were attacked by … a volley of oranges! Enormous oranges swollen with their refreshing juice fell onto our knees or were caught in mid-flight. They were a symbol of the friendship and the warmth of their growers. It was a kind thought and touched our hearts.
Thus refreshed in body and soul we continued our journey southwards. Not far away was the Mediterranean Sea. We were overjoyed yet at the same time we felt ourselves to be taking part in a magical dream. We arrived in the evening at purpose-built barracks in a military camp in Gaza. l hadn't had the time to get used to my new surroundings or to look round or even settle in before my father arrived.
It was always sunny: in our hearts, everywhere. Even the barracks with their white walls gleamed in the sun. We breathed fresh air through the wide-open windows. The next step was to get permission to leave the camp and wear civilian clothes for an indefinite period with the aim of me finishing school.
Armed with my 'permit' I left Gaza camp and went with my father to Jerusalem. The road meandered through the green and gold countryside towards the Holy City. By hitchhiking in a military vehicle we got there very quickly. We got out in front of the old gate. Leaving the Casa Nova, the hotel assigned to the Poles, on our right we entered the Old City. In front of us the narrow route descended between shade and sun. There were lots of traders and porters. Some of them had already met my father and smiled at him in a friendly way. I received a share of this welcome. I looked at my father and was filled with happiness.
We followed the Via Dolorosa as it descended turning first to the left and then to the right. At one end was a Catholic convent 'Ecce Home' and at the other an Orthodox 'monachka'  greeted us wearing a black dress with a white veil on her head. Further on an imposing 'batiuchka' an old pope (an orthodox priest) with long white hair and beard also greeted us with icons and candelabra.
We climbed to the first floor and found ourselves in a simple room that was to be let to us. Who was the owner? Where was his family? Where did they come from? How long had they been in Jerusalem? Perhaps they too had fled like us from a war or from a revolution. Who knows ?
My first night in the Holy City I slept like a log. The morning of 16 December was as glorious at the day before. The sun beckoned me outside. A young boy appeared – he was about the same age as Jesus when he spoke in the Temple. He was a street peddler who was selling photographs of the Holy City. What language did we use? In any case he led me out through another of the Old City's  gates several metres away from the Orthodox convent. We then took the path leading to the Mount of Olives and its beautiful Basilica and garden: the very one in which Jesus endured his agony.
We climbed towards the Basilica through a Jewish cemetery. Was it the Cedron or the Josapat Valley where we'll all be reunited on the Day of Judgement? Jerusalem lay before us bathed in sunlight: a sunlight shining forever in my heart. I thought of Palm Sunday when Jesus made his triumphal entry prior to the Passion.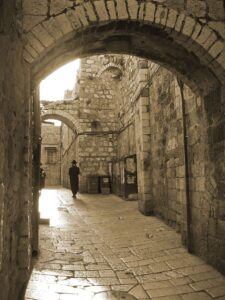 The young boy continued as  my guide and we retraced our route following Christ's footsteps in order to return to my lodgings. I wanted to introduce my guide to my father but our landlady was horrified: unknown young boys weren't allowed into her house for they could be thieves !
(To be continued) …
Danuta never finished the story.
Unable to return to their homeland, Danuta, her brother and father met up again in Britain in 1946.
Danuta had intended to become a doctor but because of her lack of English skills she became a nurse. She later joined a religious order,  the Sisters of Nazareth. She worked as a nurse  in Pittsford Hall, a Polish boarding school in England and was then sent to Northern France to administer to the mining community there.
Her brother, Janusz, married and had four children and twelve grandchildren. He died in 1993 in England.
Having guided his two children to survival, Stanislaw died of Leukaemia in 1951 in London.  He was buried  in South London with a wooden cross, since the family could not afford  a proper headstone.
Years later, the family erected a gravestone. Dana came from France to pay tribute. She returned to France and died shortly afterwards in 2002.
She is buried in Paris.